First and foremost, we're a New Jersey law firm.
Greenbaum, Rowe, Smith & Davis is a recognized leader among New Jersey law firms, with deep roots in the state and a far-reaching knowledge of New Jersey legal issues. True to that identity, we understand the "ins and outs" and the inherent complexities of handling legal challenges in New Jersey, knowledge which translates directly into an advantage for our clients.
We are dedicated to providing pragmatic, resourceful and cost-effective representation, in combination with reliable and responsive client service. Our approach is collaborative and consistent — we get the job done, both here in New Jersey and in other jurisdictions. We've been doing just that for the past century.
The strengths of our practice are rooted in solid experience. We are known for our business savvy, and as proactive problem solvers, successful deal makers and prolific thought leaders. We handle our clients' most challenging disputes and sophisticated transactions, and proudly serve as their longtime trusted advisers. Above all else, our goal is always to help clients overcome challenges and capitalize on opportunities.
Our areas of expertise are diverse and comprehensive in scope. We take a practical, creative and highly personalized approach to the work at hand. Whether we're retained to structure a transaction, serve as strategic counsel, or represent a client in a dispute or litigation, we strive to earn the loyalty and respect of our clients by delivering results that meet their specific goals and objectives.
Our long history has built the foundation that we stand upon today, and we honor the many accomplishments that define our first one hundred years. Moving forward as a 21st century enterprise, we resolutely embrace our changing world with the foresight and flexibility needed to meet the continually evolving needs of our clients.
Strong Suits
Litigation: "sophisticated support to a broad client base, including significant domestic and international businesses … strength at trial and appellate level, as well as in arbitration and mediation"
Corporate/M&A: "well-established with a solid corporate team … particular strength in real estate-related transactions … corporate finance and M&A … the automotive and healthcare industries"
Real Estate: "extensive experience acting for regional and national developers, private equity investors and landlords and tenants … a superb group for real estate matters with an active and robust practice across the entire spectrum of work"
Environmental: "sought out by a diverse range of clients, including developers, property owners and manufacturers … noted strength in contaminated site remediation, particularly brownfield cleanups"
Healthcare: "a highly regarded team active in the New Jersey healthcare market, acting for a broad client base of providers, pharmaceuticals and those investing in the industry … extensive regulatory practice"
Construction: "representing developers, owners, condominium associations and general contractors in litigation ... broad range of disputes, including claims relating to defective construction and design, negligence and construction delays"
Chambers USA 2023
(a publication of Chambers and Partners)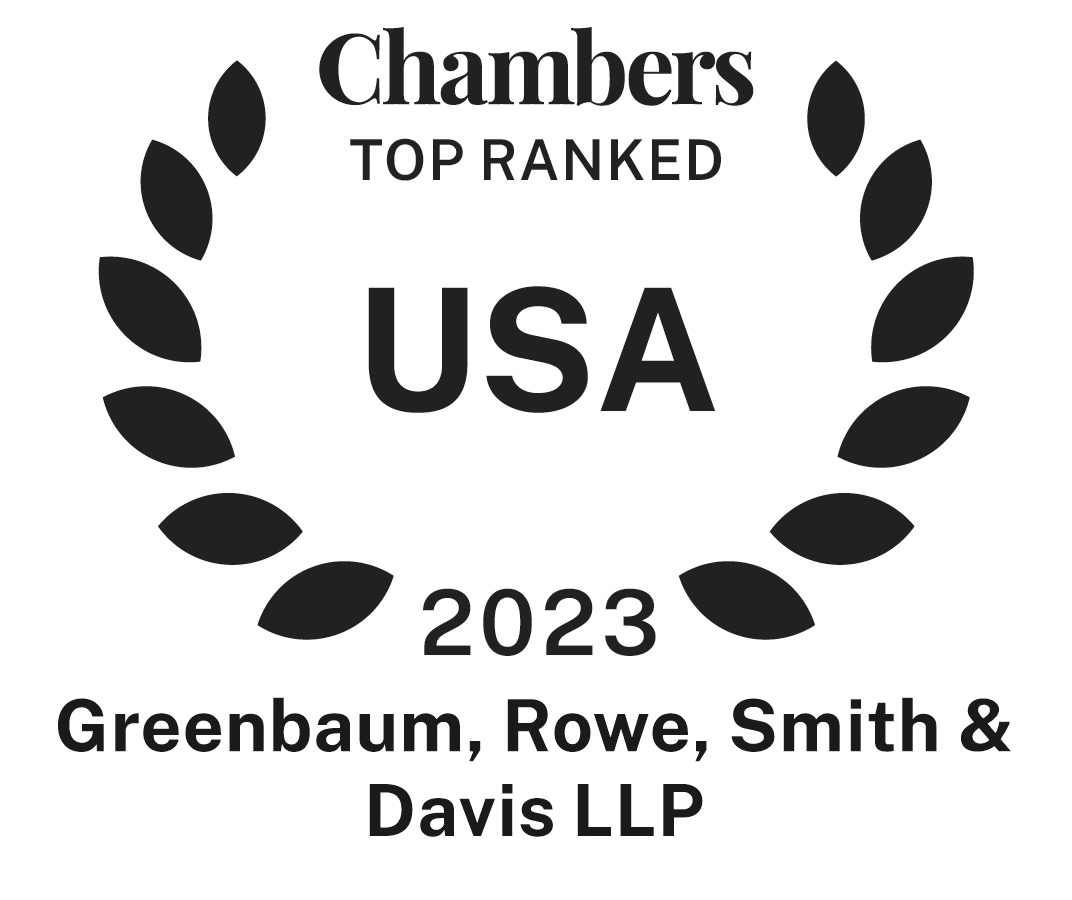 Please visit our Award Methodology page for a description of the standard or methodology on which these accolades are based. Attorney Advertising: No aspect of this advertisement has been approved by the Supreme Court of New Jersey.