I love trying cases. It never gets old. The challenge, the human dynamic, the pressure, the hard work and effort, the novelty of each case. I really can't imagine doing anything else.
Mr. North focuses his practice in litigation, with an emphasis on trial practice. He has tried jury and non-jury cases in state and federal courts, including over 75 jury cases to verdict. He is certified by the Supreme Court of New Jersey as a Civil Trial Attorney.
A significant portion of Mr. North's practice is devoted to the defense of catastrophic injury and other high exposure cases in the areas of toxic torts, negligence, public entity liability and professional liability, including the defense of attorneys, accountants and insurance brokers.
Mr. North's practice also concentrates in the representation of commercial and residential real estate developers in connection with design and construction defect litigation, as well as the defense of claims brought under New Jersey's Planned Real Estate Development Full Disclosure Act and Consumer Fraud Act.
Additionally, he has represented major banks and financial institutions in connection with lender liability claims and matters involving negotiable instruments and financial fraud.
Mr. North is the author of the evidence treatise A Trial Lawyer's Strategic Guide to the New Jersey Rules of Evidence, and is a principal author of Business and Commercial Litigation in Federal Courts, contributing the chapter in the treatise devoted to Medical Malpractice. He also contributed the chapter on statutory disclosure requirements in Winning Legal Strategies for Construction Law. He has lectured throughout the state on evidence and trial practice.
Honors & Awards
International Academy of Trial Lawyers Fellow
American College of Trial Lawyers Fellow
American Board of Trial Advocates
Litigation Counsel of America Senior Fellow, Order of Centruions Barrister, Order of Certus Advocate

Recipient of the Trial Bar Award from the Trial Attorneys of New Jersey for his distinguished service in the cause of justice (2019)

Recipient of the Professional Lawyer of the Year Award from the Trial Attorneys of New Jersey and the

New Jersey Commission on Professionalism in the Law (2016)

Listed in Chambers USA (a publication of Chambers and Partners) in the Litigation: General Commercial and Construction practice areas (2011 – present)
Listed in The Best Lawyers in America©

(a trademark of Woodward/White, Inc.) in the Bet-the-Company Litigation, Litigation - Banking and Finance, Commercial Litigation and Personal Injury Litigation - Plaintiffs practice areas (2010 – present)

Selected by

Best Lawyers®

(a trademark of Woodward/White, Inc.) as Woodbridge "Lawyer of the Year" in Bet-the-Company Litigation (2022, 2013)

Listed in New Jersey Super Lawyers (a Thomson Reuters business) in the Civil Litigation: Defense, Banking, and Personal Injury - General: Plaintiff practice areas (2005 – present); listed as one of Super Lawyers' Top 100 Attorneys in New Jersey (2010, 2011, 2019)
Listed as a Local Litigation Star in New Jersey in Benchmark Litigation (a publication of Euromoney Institutional Investor PLC) in the Bankruptcy, Construction, and General Commercial practice areas (2016 – present)
Martindale-Hubbell® Peer Review Rated AV® Preeminent (a trademark of Internet Brands, Inc.) (1990 – present)
Please visit our Award Methodology page for a description of the standard or methodology on which these accolades are based. Attorney Advertising: No aspect of this advertisement has been approved by the Supreme Court of New Jersey.
Representative Matters
Obtained a $26.2 million plaintiff's verdict in a products liability "crashworthiness" case
Ongoing representation of an industrial product manufacturer in multiple mass tort, personal injury and natural resource damage (NRD) matters involving PFAS "forever" chemicals
Representation of nursing home facilities in connection with 8-figure settlement of multiple COVID-related wrongful death claims and ongoing representation with 42 consolidated employee claims
Represented a major bank in a construction loan matter involving complex "lender liability" defenses and counterclaims. Obtained a jury verdict rejecting "lender liability" claims and judgment in favor of the bank for all amounts due on the construction loan
Representation of financial services clients in connection with environmental claims arising out of mortgage transactions and Other Real Estate Owned properties
Successfully represented a managing general agent in a contractual dispute with an insurance carrier involving both injunctive relief in federal court and 9-figure damage claims in arbitration
Successfully defended a major real estate developer in a six month jury trial involving claims by a condominium owners' association for $200 million based on allegations of construction defects, financial misrepresentations and consumer fraud
Represented condominium association in matter involving claims against developer for alleged construction and design defects, as well as alleged financial misrepresentations. Obtained an 8-figure settlement at trial
In the first case decided under New Jersey's elder financial abuse reporting law, obtained a ruling in a non-jury trial that the client financial institution had acted properly, and that the statute did not impose an affirmative regulatory obligation on financial institutions
After an adverse summary judgment in a multi-million dollar matter arising out of the termination of commercial land leases, obtained a reversal on appeal, with a direction from the appellate court to the trial court that the adverse judgment be vacated and judgment entered in favor of client financial institution
Uniquely NJ
Trial Attorneys of New Jersey (President, 2012)
New Jersey State Bar Association
Association of the Federal Bar of New Jersey
New Jersey Supreme Court Committee on Jury Selection in Civil and Criminal Trials (2010 – 2013)
View Expanded Bio
Departments
Practice Groups
Education
University of Maryland School of Law, J.D. with honors, 1977
Lehigh University, B.A. with high honors, 1971
Bar Admissions
New Jersey, 1977
U.S. District Court, District of New Jersey, 1977
U.S. Court of Appeals, Third Circuit, 1985
---
- Chambers USA 2023 -
(a publication of Chambers and Partners)
Editorial Excerpt: Maintains a broad practice in commercial litigation, with substantial experience representing clients in jury and non-jury trials ... has construction related expertise that includes disputes involving condominium association law.


---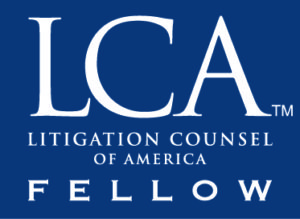 Please visit our Award Methodology page for a description of the standard or methodology on which these accolades are based. Attorney Advertising: No aspect of this advertisement has been approved by the Supreme Court of New Jersey.